A SaaS company that provides advertising insight/market research tools and online lead-generation marketing solutions.
Title: Vice President of Sales & Marketing – Lead Generation Solutions Division, NYC
Responsibilities:
Top executive charged with managing and growing an online SaaS, ASP & CMS lead-generation software division for a multinational organization.
Sold lead-generation and ad sales insight data to publishers and ad agencies.
Report directly to the President of IMS Corporate in Canada.
Manage profit and loss and departmental financials.
Developed and implemented the division's strategic direction including brand identity and sales strategy for customer retention as well as new client acquisition.
Added new product functionality based on industry requirements, customer requests and to attract new customers.
Manage all day-to-day workings of the Internet Services Department from sales presentations, web site development, web hosting, along with ongoing customer satisfaction and maintenance.
Write, prepare and deliver new business presentations and proposals.
Create new marketing and sales campaigns, attend conferences and networking events.
Developed a new electronic trade show lead-generation product utilizing existing internal systems and procedures.
Hire, supervise and train a team of fifteen multi-faceted professionals that sell, create, consult and manage web sites for leading publishers.
Constantly develop, create, and deploy new eMarketing campaigns to generate leads and grow the business.
The Results:
Achieved 60% increase in annual revenue by acquiring new clients and segmenting existing offerings.
Grew division's contribution to company's total revenue by 40% over 15 years.
Sold services to Fortune 1000 clients and managed numerous marquee brands such as Hearst, Meredith, AARP, Time, Wolters Kluwer, Publicis and Omnicom, among many others.
Build and consult on prominent websites for industry leading clients,
such as: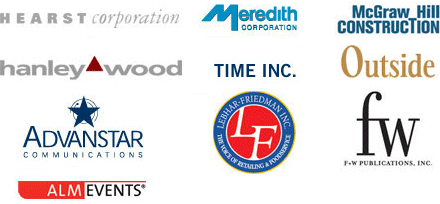 Testimonial: "Marc Highbloom and IMS had a very long and successful relationship.  I had the pleasure of working with Marc for nearly 15 years on the Executive Team where he brought a resourceful and creative Marketing and Sales acumen to the organization that increased his division's P&L year-over-year.  Being the dedicated professional he is, Marc managed a diverse team, understood and was responsive to client needs, knew how to engage new customers and quickly recognized opportunities that drove financially favorable actions as he adapted to the ever-changing marketplace. Early on, it became evident that he's a smart entrepreneurial executive that can easily translate lofty strategies and plans into practical tactics that generate results company-wide."                                Sandra Conflitti, Former CFO
Online Lead-Gen & Marketing Services Overview: